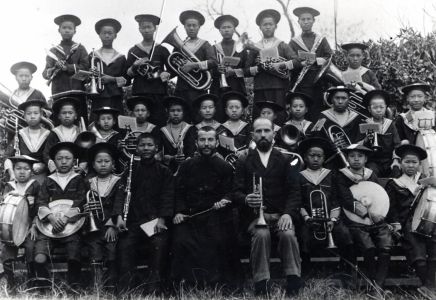 【慈幼通訊社 ─ 2020 年 12月 30 日羅馬慈幼總部訊】 ─ 2021年1月3日為天主忠僕畢少懷神父逝世五十周年,他於1889年5月23日在意大利桑治奧省蒂拉諾出生,於1971年1月3日在菲律賓聖費爾南多逝世。
畢少懷神父自幼為父親拋棄,母親留下他作孤兒,小時候受蒂拉諾母佑會收容,接著轉由桑治奧的慈幼會士照顧。在天主眷顧下,他因而與聖鮑思高首任繼承人盧華神父見面,並讓他成為慈幼會士。盧華神父向畢少懷展露笑容,一如鮑思高神父向他微笑,他把畢少懷的手放進他的手中說:「我們永遠是朋友。」畢少懷一生每個階段所遇到的困難肯定不少,包括在初學、修生或是任省會長的日子,他曾審慎地延遲了一些決定,其中也招來了一些流言:他卻在這種種經歷中學會面對艱苦。這樣,他成為一位散發出超凡喜樂、謙遜與活力的人,並有一種細膩的諷刺意味:所有這些特質,都顯示出他一份平衡與現實的意識。在聖神的工作下,畢少懷神父發展出一種向四周散發的父愛,並伴隨對交託給他的青年一種巨大的溫情。
他於1906年成為慈幼會士,並於1914年晉鐸。在第一次世界大戰爆發時,他被徵召入伍。在戰爭結束時,他透過進教之佑聖母的轉禱,得到治癒「西班牙流感」的奇恩後,請求前往遠東傳教。他於1919年抵達南中國的韶州,在那裡與今天已為聖人的雷鳴道主教重逢和合作。1930年,他成為中華會省省會長,推動慈幼會福傳事業的發展。澳門的新工作及香港的五所大型中心相繼成立,在昆明、上海、除州等地開設會院及學校,他又在北京成立首間慈幼會學校,使聖鮑思高的奇夢得以部分實現。1949年,正值慈幼會會院擴展時,卻遭遇共產主義中斷:在中國大陸的所有教育、慈善及福傳活動停頓。這些事業的結束,並未使他灰心喪志。
他於1952年卸任省會長後,奉派到菲律賓,在當地開展慈幼會事業,並於1958年成為省會長。他的熱忱感染了其他傳教士。他與所有會士、恩人及學生的家庭,保持一份神聖的友誼。他寬大的心胸,使他懷有慷慨與知恩之情,令人們著迷。這些超凡的特質與行為,建基於他與天主密切的結合,對耶穌的愛,甘願將自己奉獻於上主。落任後,作為一個平凡的會士,他投入於更精細的工作:當青年的告解神師及獻身者的神修指導者。
他曾參與七屆全代會,讓人們看到他的熱忱、喜悅與樂觀;他知道這個修會,猶如一所年代久遠的鮑思高慈幼會學校;他成了天主王國的拓荒者。如此,他能夠向年輕的菲律賓籍初學生笑著說,他想及天堂並已感到身在其中。上主願意他的逝世,向世人傳達他畢生向人們留下的同一印象:時常喜樂、樂於服務、遵行修道者的本份,並無論何時何地要履行本份時都準時赴會。這樣,在他畢生忠貞地在上主葡萄園工作後,於1971年1月3日早上5時30分,這位福音使者交付他的靈魂給天主。他的列品案於2014年開啟。
總會長於發表2021贈言時提及他,稱他為望德的見證者:「天主忠僕畢少懷神父,在他永不言倦的福傳生涯,以及對慈幼家庭成員的陪伴,我們都能找到牧職智慧的榜樣。他沒有灰心喪志,卻懷著信賴我主基督的望德,他知道要具有鮑思高神父所大力推薦的耐心,透過陪伴青年建立成熟的個性。這耐心是愛的果實,從他傳教士的心流溢,使他在不同文化之間建立橋樑,而非障礙。他感到要在人們之間宣揚合一的召叫,有助他克服人與人之間所引起的差異,堅信天主的恩寵時常支持著他,使能產生相遇的文化。」
50th anniversary of Dies Natalis of Servant of God Carlo Braga
(ANS – Rome–RMG, 30 December 2020) – 3 January 2021 marks 50 years since the death of the Servant of God Carlo Braga, born in Tirano (Sondrio) on May 23, 1889, and died in San Fernando (Philippines) on January 3, 1971.
Abandoned very young by his father and orphaned by his mother, Carlo was welcomed first by the FMA of Tirano and then by the Salesians of Sondrio. Providence offers him the extraordinary opportunity to meet Fr Michele Rua, Don Bosco's first successor, who opens the way for the boy to become a Salesian. Fr Rua smiles upon Carlo and, repeating the gesture that Don Bosco had once made with him, puts his hand inside his own and says to him: "We will always be friends". Certainly, Carlo Braga will have no lack of difficulties at every stage of his life – as a novice, cleric, even provincial -, materializing in prudential postponements and sometimes taking the form of slander: but he will have learned to face them by now. Meanwhile, he becomes a man capable of radiating an extraordinary joy, humble, active and with a delicate irony: all characteristics that indicate his sense of equilibrium and reality. Under the action of the Holy Spirit, Fr Braga himself develops a radiant paternity, which is joined by a great tenderness for the young people entrusted to him.
In 1906 he became a Salesian and in 1914 he was ordained a priest. With the outbreak of the First World War, he was recruited into the army. At the end of the conflict, after being miraculously healed of the "Spanish flu" through the intercession of the Help of Christians, he asked to be sent on a mission to the Far East. In 1919 he arrived in Shiuchow, in southern China; here he met Mons. Luigi Versiglia, today a saint. In 1930 he became Provincial of China, giving a significant boost to the development of the Salesian missionary work. The orphanage in Macau and five large centers in Hong Kong are opened; he founded the first Salesian school in Beijing: Don Bosco's dream was fulfilled. In 1950 the Salesian house, in clear expansion, saw its dreams interrupted by communism: all education, charity and evangelization activities were closed. The collapse of so much work does not demoralize him.
He was sent to the Philippines where he started the Salesian presence, becoming a Visitor in 1958. His zeal and enthusiasm infect other missionaries. He maintains a holy friendship for all the families of the confreres, benefactors and students. He enchants everyone with his generosity and gratitude, dictated by his big heart. At the basis of all these extraordinary qualities and deeds, he accomplished is his intimate union with God, his love for Jesus, a secret will to give himself to the Lord. As a simple confrere, he dedicated himself to a finer work: that of confessor for young people and spiritual director of consecrated souls.
He had participated in seven General Chapters, bringing them a note of his own enthusiasm, joy and optimism; he knew the Congregation like the old Salesians of Don Bosco's school; he had been a pioneer of the Kingdom of God. He can then say with a smile to the young Filipino novices that he thought of Heaven as if he already had it. The Lord wanted that his death leave the same impression that he had always transmitted in life: always cheerful, ready for anything, observant in his religious duties and always punctual wherever and whenever duty called. And so, at 5.30 am on January 3, 1971, this herald of the Gospel returns his soul to God, after having worked with tireless zeal in the vineyard of the Lord. The Cause of Beatification was launched in 2014.
The Rector Major speaks of him in the Strenna 2021, presenting him as a witness of hope: "In the Servant of God Fr Carlo Braga, we find an example of pastoral intelligence both in his tireless dedication to the missions and in the accompaniment of the members of the Salesian Family. Without losing heart, but with the hope proper to those who place their faith in Christ our Lord, he knew how to have the patience that Don Bosco so much recommended to be able to accompany young people in building a mature personality. This patience was the fruit of the love that flowed in his missionary heart, which allowed him to build bridges between cultures and not to erect barriers. The call he felt, to promote unity among people, helped him to overcome the differences that could arise between others, convinced that he was always supported by divine grace, which generates the culture of encounter."