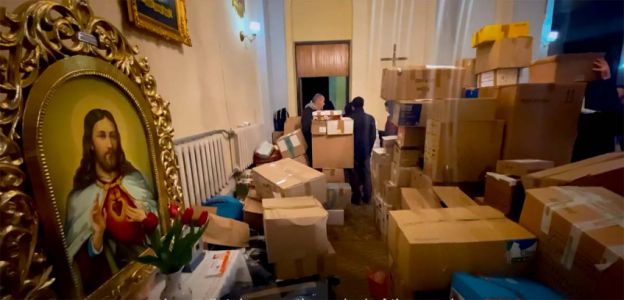 【慈幼通訊社 ─ 2022 年3月 18 日羅馬慈幼總部訊】 ─ 來自世界各地的慈幼家庭成員,對飽受戰火的烏克蘭人民,提供無間斷的支援。來自克拉科夫(Krakow)會省,現正於烏克蘭Bibrka投入救援工作的波蘭籍慈幼會士Augustin Szczerbiński說:「我們要感謝你們每一位的幫忙,包括發自內心的慰問、救濟物資的捐助,以及你們為我們的祈禱。」
即使在波蘭與烏克蘭邊境交界以外的地方,救援工作也是毫不輕鬆的。在波蘭的慈幼會院中每一位,包括慈幼會士、志願工作者、青年、成人、以及像Tatiana般由烏克蘭逃難的難民,都在辛勤工作。一反早前因為逃避戰火而終日沮喪,以淚洗面的艱苦境況。她現在懷著熱火,日以繼夜工作,盡力向她有需要的同胞送上有用的物資。她說:「我們進行救援物資的包裝工作,援助烏克蘭:衛生用品、食物、尿布、婦女及兒童用品……這裡有一整隊的志願工作者。願主祝福你們。」
救援組織已經成立,起初差不多是自發性的,但漸漸發展成更有組織性及更專業的模式,不只限於提供救援工作,卻也在世界各地的慈幼家庭之間,形成了一份更深入更親密的共融。
Szczerbiński神父繼續說:「這種情境使我們聯繫起來,來自慈幼會士及其他慈幼家庭成員的協助,最終到達真正有需要的人。」在他身後有其他志願工作者,正在把剛由克拉科夫送來的救援物資搬進聖堂右側通道,根據需要的緩急轉往倉庫存放,然後送到位於利沃夫(Lviv)、Peremyshlany及 Zhytomyr的慈幼會中心。
現場工作與協調性工作同步進行。上星期三,克拉科夫會省及華沙會省的數名慈幼會領袖,進行了聯合會議。克拉科夫會省派出的代表,包括省會長Marcin Kaznowski 神父、財務長Gabriel Stawowy神父、慈幼傳教志願工作者主席Tadeusz Goryczka神父及難民接濟工作負責人暨傳媒負責人Marcin Wosiek神父。華沙會省方面,包括慈幼福傳辦事處負責人Jacek Zdzieborski神父、會省財務長Krzysztof Grzendziński神父,他也負責指導慈幼會在烏克蘭、波蘭、斯洛伐克,向難民提供活動、服務計劃,以及一切慈幼會直接參與的相關工作。
昨天較後時間,Grzendziński神父向克拉科夫會省議會,匯報最新救援狀況,以及所有已進行的活動,並商討各種更有效合作的意見。
最後匯報世界其他地方的救濟動員狀況、物資及捐款收集情況,以及其他進行中的救援方案:在法國及比利時,各學校及青年團體正積極進行救援運動、奧地利正進行募捐行動,在馬達加斯加、南韓、中華會省、東非會省及意大利西西里會省也在進行同樣的行動。慈幼會士在接收首批難民之後,宣佈了另一項計劃:從下星期一起,與意大利難民署合作,在西西里Catania開設援助處,旨在保證所有烏克蘭公民享有各項權利,並提供有關國際庇護、短期庇護、家庭團聚、接待及服務簡介的資訊。
Directly from Ukraine: "Thanks for your help"
(ANS – Rome–RMG, 18 March 2022) – The Salesian Family from all over the world is involved in tireless and uninterrupted work in support of the Ukrainian population victims of war. "We want to thank everyone for your help, for every gift made with the heart, for the donated materials, as well as for remembering us in your prayers," says Fr Augustin Szczerbiński, a Polish Salesian from the Krakow Province, currently engaged in relief operations in Bibrka, Ukraine.
The work is intense even beyond the Polish-Ukrainian border. Everyone is working hard in the Polish Salesian houses: Salesians, volunteers, young people, adults, the refugees themselves, like Tatiana, who herself fled Ukraine. Instead of stopping and crying over what she had to leave behind because of the war, she now works day and night, and with great zeal, to send as much useful material as possible to her compatriots in need: "We are packing everything for Ukraine: sanitary items, food, diapers, products for women and children… There is a whole group of volunteers. God bless you," the young woman says.
The relief machine that has been created, at first almost spontaneously, but which has gradually become structured in an increasingly coordinated and professional manner, is not limited to distributing aid: it is also producing a deeper and more intimate union throughout the worldwide body of the Salesian Family.
"This situation is really uniting us, with this aid from Salesians to other Salesians, which then ends up with people who are truly most in need," adds Fr Szczerbiński, while behind him the other volunteers involved in rescue operations unload goods into the right aisle of the church, transformed by necessity into a warehouse, goods just arrived from Krakow and destined for the other Salesian centers in Lviv, Peremyshlany and Zhytomyr.
And while the field activities proceed, so do the coordination activities. Last Wednesday, there was a joint meeting between several Salesian leaders of the Provinces of Krakow (PLS) and Warsaw (PLE). Taking part on behalf of the PLS, the Provincial, Fr Marcin Kaznowski, the Economer, Fr Gabriel Stawowy, the President of the Salesian Missionary Volunteers, Fr Tadeusz Goryczka, and Fr Marcin Wosiek, Coordinator of the reception of refugees and Responsible of the media section; for PLE, there was the Salesian Mission Office Director, Fr Jacek Zdzieborski, and the Provincial Economer, Fr Krzysztof Grzendziński, who is also in charge of supervising the implementation of the Salesian activities, services and programs for refugees in Ukraine, Poland, Slovakia and in all the Salesian realities directly involved.
Later in the day, yesterday, Fr Grzendziński offered an update to the PLE Provincial Council and took stock of all that has been done so far, and together they discussed various ideas for an ever more effectively coordinated operation.
From the rest of the world, finally, reports that mobilizations, collections of goods and solidarity funds, as well as initiatives of all kinds are proceeding: in France and Belgium, the campaigns of many schools and youth associations are always active; in Australia, monetary donations are being collected and the same is happening in Madagascar, South Korea, in the Province of East Africa and in that of Italy-Sicily, where the Salesians, after welcoming the first refugees, have announced another initiative: from next Monday, in collaboration with the CIR (Italian Council for Refugees), they will open an assistance desk in Catania that aims to guarantee all Ukrainian citizens access to rights and will offer information on international protection, temporary protection, family reunification, reception, and service orientation.