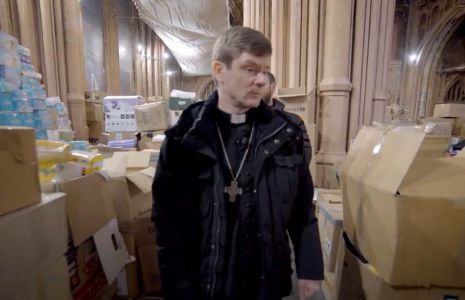 【慈幼通訊社 ─ 2022 年4月 26 日烏克蘭基輔訊】 ─  現年49歲的基輔Zhytomyr教區克里維池基爾(Vitalij Kryvytskyi)主教,是一位年輕的慈幼會士主教。他於2017年獲任命領導這個教區時,年僅44歲。也許他從沒想到,他的牧職生涯,須要陪伴一群受戰火驚嚇,極度悲傷的羊群,又或是協助支援數以千計的民眾生存下去。2月24日午夜的轟炸,使他與其他人同樣受驚。他說:「這十分令人震驚。我們處身於綿延不斷的戰火中,是基督徒之愛——愛仇人的最大考驗。」
主教在進行探訪之旅,鼓勵並幫助教區內的民眾,期間他接受訪問,受訪者還包括慈幼會士Roman Sikon神父及慈幼會傳教士Michal Krol。主教在受訪時繼續說:「我們過去無數次在信眾或眾司鐸面前,論及福音中有關耶穌愛仇人的篇章。我們一向這樣想:『當然耶穌是對的!』然而這看似簡單,但實踐起來卻不是這樣。」
在這持續逾兩個月戰事的經歷,讓他能作出有關戰事親身的見證,如他沒有這些親身的經歷,這場戰事會是不足為信的:「我無意淡化在瑪里鳥波爾(Mariupol)、切爾尼戈夫(Chernihiv)及哈爾基夫(Kharkiv)的戰事……但事實上在較為安全地區生活的人民,對戰事有更深刻的體會。他們感受到這戰爭是針對烏克蘭的仇恨,同時因為在國內發生的事情而產生仇恨之情。走過城市的街道時,充滿恐懼及死亡的感覺。反之,在直接受戰火威脅的地區,你會看到民眾並未失去樂觀,甚至在困厄中仍展露笑容,他們在槍林彈雨中受著天主的保護。」
因此這位慈幼會士主教不停地安慰所有參與人道救援工作的會士、司鐸及義工,他們所服務的國內有需要的人,數目眾多。克里維池基爾主教這句話,充滿著他慰藉之情:「感謝你們所做的!」
接著,他走遍各聖堂內的通道,其中很多聖堂已變成倉庫,他巡視及留意現有的資源,已完成及尚在進行中的工作。他知悉教區的需要,與慈幼會士合作提供援助:例如所需的麵包,已經和其他食物、被子及床墊,一同由波蘭用卡車運送過來。
他自己透過視像形式,參與慈幼會士支援隊伍的會議,處理援助烏克蘭人民的工作。「我們須要派員前往切爾尼戈夫,那裡的人民面臨缺糧的威脅,然而當地只能以水路前往。因此。我們已備妥船隻。」
克里維池基爾主教不僅以帶著慈幼神恩的會士身份,同時也以基輔Zhytomyr教區領袖的身份,向所有支援烏克蘭人民的慈幼家庭事業表示感謝。主教在結束與慈幼會士工作隊伍的視像會議後,並在向他們問安及施予宗座祝福之前,說了以下的話:「感謝你們送來捐款、協助難民離開,以及所有你們答應的援助計劃,因為我們需要你們的援助。」
Ukraine – Bishop Kryvytskyi, SDB: "War is one of the hardest trials for Christian love, to be able to love one's enemies"
(ANS – Ukraine–Kyiv, 26 April 2022) – Vitalij Kryvytskyi, the Salesian bishop of the diocese of Kyiv-Zhytomyr, is a young bishop. He is 49 years old today and was just 44 when he was appointed to lead the diocese in 2017. He probably never would have thought then that his tasks as a pastor would include accompanying a flock that is distraught and frightened by war or having to coordinate the management of aid with which thousands of people survive. The bombings on the night of Feb. 24 left him as stunned as anyone. "It was a shock," he says. "We have a war going on, and it's one of the hardest tests for Christian love, to be able to love your enemies."
"With the faithful or my priests we often comment on how many times in the past we had read the Gospel passages in which Jesus says to love one's enemies. We always thought, 'Of course, that's it, Jesus is right!' But it all seems simple only until you really have to put it into practice," adds the prelate, during an interview granted to Fr Roman Sikon, SDB, and Michal Krol, of Salesian Missions, during a break between his trips to encourage and help the people of his diocese.
His experience of these more than two months of fighting allows him to give direct testimony about the war that otherwise would not seem credible: "Without minimizing what is happening in Mariupol, Chernihiv, Kharkiv… in truth the people who live in the safer areas are having a more intense experience of the war. They feel the hatred directed toward Ukraine with this aggression, and many feel hatred for what they see is happening to their country. It is pure fear, it is death walking the streets of our cities. Instead, in the areas most directly exposed to the clashes, you see people who do not lose their optimism, who can even joke in these difficult times, and who can see that God protects them while they pass between the bullets."
That's why the Salesian prelate never fails to comfort his confreres, his priests, and all the volunteers who are engaged in humanitarian support of the needy – of which there are so many in Ukraine right now. "Thank you for what you do!" is the expression that Msgr. Kryvytskyi has accompany his embrace of comfort.
Then he walked through the aisles of the churches, in many cases now transformed into warehouses, and scouted and observed the resources available, the work done and that yet to be continued. Knowing the needs in his diocese, he works with the Salesians to provide adequate aid: he has asked for bread, for example, which has been sent to him by truck from Poland, along with other foodstuffs, sheets, and mattresses.
He himself is participating by video-conference in a session of the Salesian coordination team for the management of aid to the Ukrainian population. "We had aid to send to Chernihiv, where the population is at risk of running out of food, but now the city can only be reached by river. For this reason, we have now equipped ourselves with boats."
Not only as a confrere united by the Salesian charism, but also as the leader of the Kyiv-Zhytomyr diocese, Msgr. Kryvytskyi expresses all his gratitude towards the work of the Salesian Family in favor of the Ukrainian population. "Thank you for the donations sent, for helping refugees escape, and for whatever other undertakings you are planning, because we have become dependent on your aid," the prelate adds at the end of his virtual meeting with the Salesian coordination, just before greeting everyone and imparting the apostolic blessing to them.